Description
CAD/CAM Milling
When only the purest air will do
Cattani's range of CAD/CAM compressors, led by the AC310, deliver the highest quality air, specifically to meet the demands set by CAD/CAM manufacturers.
These compressors are ideal for precision milling, setting the standard for power, air quality and performance.
If you require a CAD/CAM compressor larger than an AC310, please talk to your Cattani dealer or directly to the Cattani team.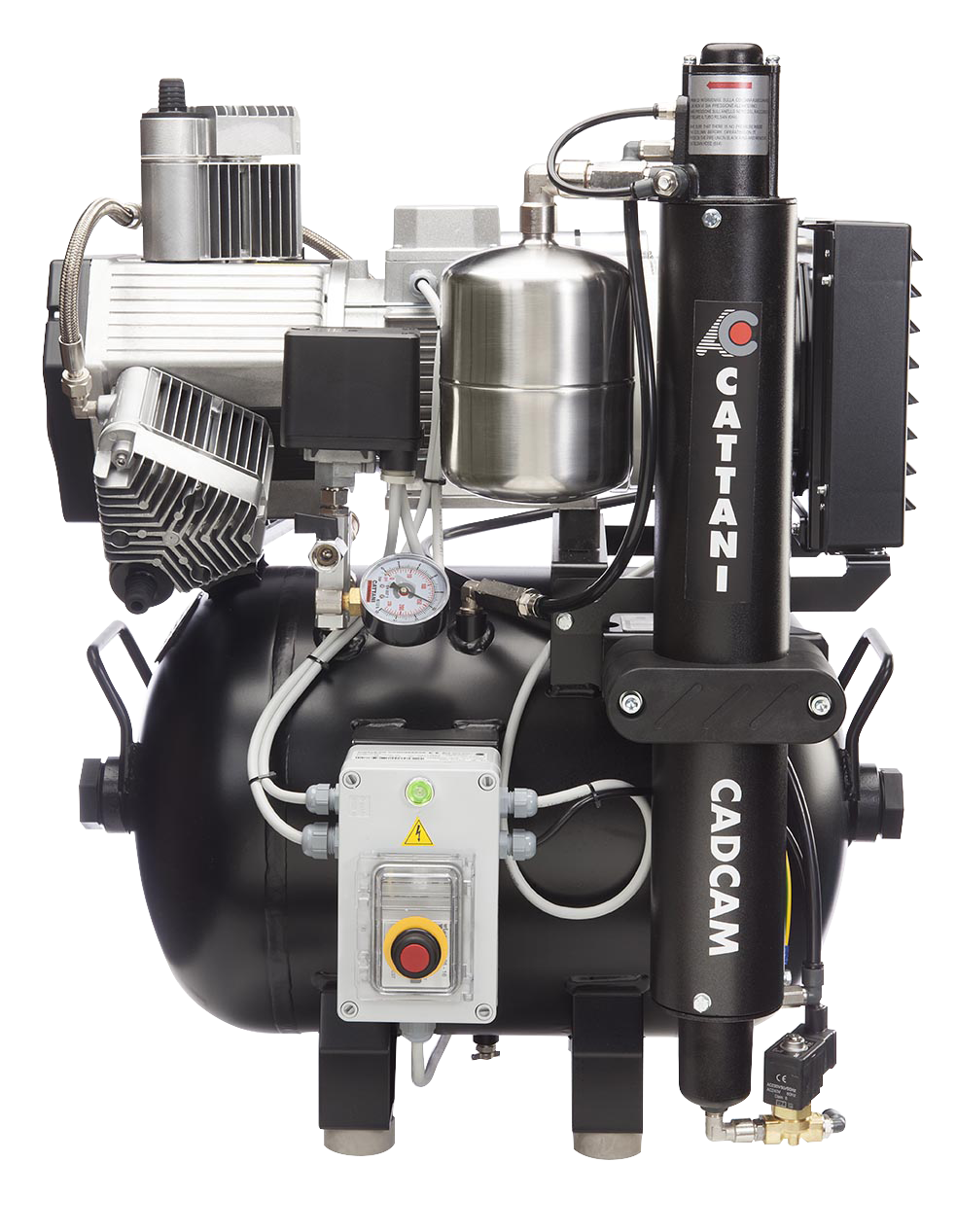 CATTANI CAD/CAM COMPRESSORS
THE ULTIMATE IN RELIABILITY
Clean – expect pure, oil-free and moisture-free air, and every tank interior has a food-grade resin inside coating. Low-friction components mean less maintenance and a longer lifespan for the unit.
Reliable – Cattani Asia is confident in the superior design, mechanical precision and robust components of our high-performance compressors. They are easy to install and require minimal maintenance, and come with a 3-year warranty.
Versatile – Cattani Asia caters for everything from single-chair practices to dental schools and hospitals – and CAD/CAM milling. There is also an acoustic hood to help reduce noise.



TECHNICAL DATA
| | |
| --- | --- |
| ITEM CODE | K-AC310 |
| NO OF SEATS | N/A |
| POWER | 1PH, 240V, 3.8 A 0.55 kW |
| HEIGHT MM | 750 |
| WIDTH MM | 620 |
| DEPTH MM | 520 |
| WEIGHT KG | 64 |
| SOUND OUTPUT dB(A) | 73.6 |
| MAX AIR FLOW AT 8 BAR nl/min | 165 |
| TANK SIZE (litres) | 45 |
Cattani CAD/CAM compressors maintain a constant and sustainable operating pressure of 8 bar over long CAM cycles. They sit comfortably within ISO standards with a 99.97% efficiency rating for particles greater than 0.3 microns, preventing damage to milling equipment and your precious work.