Case Study: PULI-JET Dental Disinfectant Providing a Safer Work Environment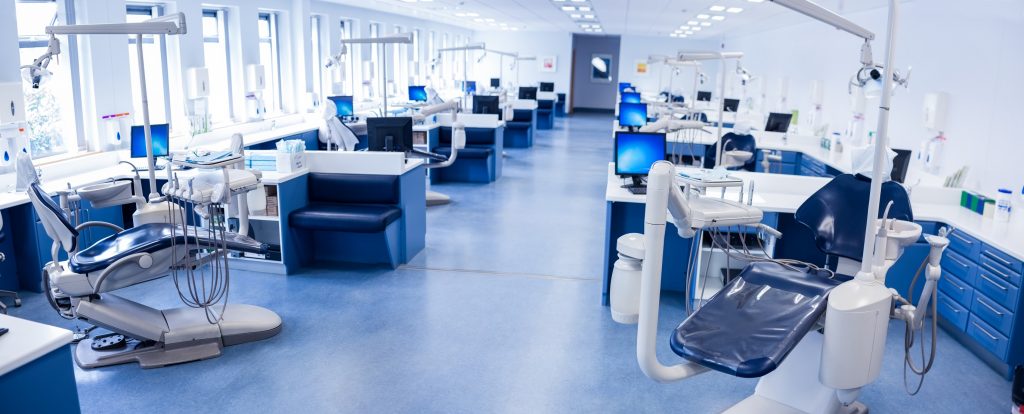 Introduction
Superior dental air technology is the embodiment of everything that Cattani stands for. In this case study we team up with long-time partner Hoslab to provide an innovative solution to tackle bacteria build-up in dental suction systems at a 24-chair dental facility. Through an 8-week product trial, we demonstrate the importance of using the manufacturer's recommended solution for your dental suction system, as well as highlighting the lesser-known benefits of the product for a safer work environment.
Hoslab | 20 years of partnership
Hoslab is a leading Australian engineering company specialising in designing, building, constructing, and maintaining reticulated gas systems. Established in 1993, Hoslab has since grown to become a leader in the field and provides a high level of integrated commitment to safety in the medical environment.
Hoslab's maintenance approach for dental plant equipment and premium dental suction consumables has always been advocated by Cattani Australasia, ever since our partnership started almost two decades ago. It is a shared belief that taking comprehensive preventative maintenance measures is critical, to ensure that healthcare environments remain safe, reliable, and cost-effective. Cattani strives for 100% reliability, and proactive maintenance ensures the longevity of plant equipment.
The challenge: Cleaning is not disinfecting
During routine maintenance at the large-scale dental surgery, abnormalities were detected within the filters of the suction units. This triggered an in-depth investigation based on concerns surrounding the volume of bacterial deposits collected at the filter. The following concerns were raised from the analysis:
The abnormal volume of residue collection trapped in the filter.
Concerns for potential system performance issues due to filter obstruction or blockage.
Risk of the bacterial exposure to clinical and maintenance staff responsible for suction maintenance.
Future risk of pipework obstruction or blockage due to excessive build-up of colonising microorganisms.
The results of this initial investigation led to one question – what product was the clinic using to maintain the suction system?
Cause
During the maintenance inquiry, it was confirmed that the facility had been using fluidisation for its suction system maintenance. Moreover, the dosing method was separated into several parts using multiple dosing schedules. This was in stark contrast to the manufacturer's recommended dental suction system maintenance process, which involves the use of a disinfectant. The recommended product, PULI-JET Gentle non-foaming disinfectant is effective and much simpler to use with one solution, one dosage method, and applied once a day.
PULI-JET Gentle was designed by the manufacturer for the following purposes:
To ensure adequate management of biological waste, reducing risks of staff exposure; and
to keep equipment performing at the optimal level; and
to make it easy for staff to follow a simple process for infection control of the suction system.
To demonstrate the effectiveness and importance of disinfection in this critical infection control process, we first need to distinguish the difference between cleaning and disinfecting.
Cleaning vs. Disinfecting
There is a common misconception that cleaning and disinfecting are the same thing, but they are certainly not. It is important to differentiate the two by starting with the manufacturer's label. This is particularly critical when it comes to dental suction disinfectants, as there is a wide range of associated cleaning products in the marketplace.
Disinfectants are a substance that is recommended by their manufacturer for application to an inanimate object (such as a medical device) to kill microorganisms.
Solution: A trial that is worthwhile
Recognising the importance of choosing the right solution for their dental suction systems, the large-scale dental facility worked with Cattani Australasia and Hoslab to conduct a product trial for an 8-week period. This would be achieved through a few simple procedures that would take place within the plant room and the dental surgeries.
Trial Objectives
To provide effective cleaning and disinfection of the system, by using PULI-JET Gentle dental disinfectant to reduce the amount of residue in the inlet filter.
To demonstrate a decrease in residue in the amalgam collection cup, thus reducing the probability of false alarms for cup replacement.
To improve user experience with a simple daily maintenance schedule for disinfection of suction equipment.
A - Initial Stage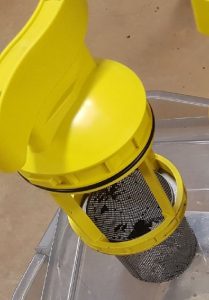 During the initial stages of the trial, PULI-JET Gentle dental disinfectant starts to break down the existing biofilm content that is present within the dental suction lines and pipework system.
B - Midpoint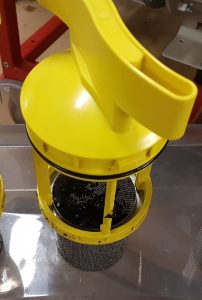 By this stage, its surfactant capabilities enhanced coverage of the disinfectant and contact time within the lines for prolonged disinfection on any existing biohazardous load. As expected, an increase of debris was found daily in the filters as PULI-JET Gentle actively worked on clearing the present biohazardous load in the suction lines.
C - Trial Completion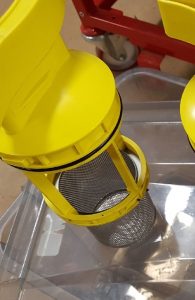 PULI-JET Gentle disinfectant had effectively acted upon the buildup within the suction lines bringing the filter deposits back within expected limits.
Conclusion: The truth always comes out
As illustrated in the photographs, there had been a considerable reduction in the amount of bacterial residue collected at the inlet filter. This outcome can be attributed to improved disinfection practice using a much simpler daily maintenance schedule and the utilisation of a disinfectant that has surfactant and anti-scale properties.
There was an expected increase in debris within the filters during the early parts of the trial, demonstrating PULI-JET's effectiveness on the existing biohazardous load that had been built up over time. It is clearly demonstrated that by end of the trial, the filter content deposit was back at normal limits, reducing the possibility of false alarms for cup replacement, and ending unnecessary technician calls.
Based on the successful results, the end customer decided to switch to PULI-JET Gentle dental disinfectant and remains committed to strengthening hygiene protocols at their dental facility.
Testimonial
"With over 20 years' experience, our team at Hoslab can quickly determine when there is a problem in dental suction systems. During maintenance, we found an unusual amount of residue trapped in the filter. To me this clearly indicates ineffective cleaning and disinfection, either from the cleaning product or the procedure process.

Cattani's product trial helped us determine that, by using PULI-JET Gentle which effectively cleared out the existing build-up, bringing the system back on track. It was also great for the facility to streamline the suction maintenance process with a single dose each day, without the need to alternate solutions."

Mark Irwin
Senior Service Technician, Hoslab Pty Ltd
Dental Disinfectant: Key Benefits
At Cattani, we offer a suction system dental disinfectant from our Magnolia range, registered as an anti-microbial solution specifically made to disinfect dental medical devices. This is a non-foaming product designed to clean and disinfect dental suction lines.
Furthermore, our dental disinfectant offers several lesser-known yet highly significant benefits, such as its surfactant capabilities to help cover more areas of the lines for prolonged disinfection. The other benefit is the anti-scaling agent, which helps minimise mineral deposits in the pipework and the suction system.
One single disinfectant
One dilution method
One dosage a day
---